To support growing sales in the United States, Rehabtronics is pleased to welcome Davie Mendelsohn to its team. A veteran medical device industry sales executive, Davie has more than 20 years of experience in the field of orthotics, prosthetics, and rehabilitation.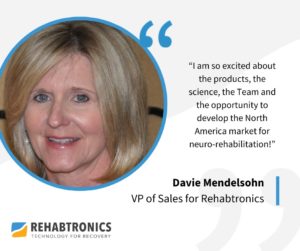 "I am so excited about the product, the science, the Team and the opportunity to develop the North America market for neuro-rehabilitation," Davie says. "The Rehabtronics products have user-centric design for ease of use, promote functional activity with repetitive task motion, and enhance quality of life.
Davie represents the Rehabtronics medical devices that are designed to help patients regain upper limb mobility following a stroke or injury, including the ReGrasp, ReJoyce and ReTouch. The devices incorporate neuromuscular electric stimulation (NMES) and functional electrical stimulation (FES) to activate muscles and replace lost neuromuscular function, prevent disuse atrophy, reduce range of motion deficits, and improve motor control in patients.
Until now, Rehabtronics products have been primarily used outside North America and sold through a global distribution network. The company recently received FDA clearance to sell ReGrasp with a prescription in the United States.
"Our Rehab products have a proven track record of improving the lives of people who are paralyzed or immobile. With Davie's help, we are looking forward to bringing these game changing devices to those who need it in the United States."
Davie is well versed with leading sales, clinical and reimbursement teams, and been regularly awarded the highest level of annual corporate recognition for her sales and management contributions to start-ups as well as established public healthcare companies. She is a member of American Academy Upper Limb Society and has served on the Board of Directors for the Orthotic and Prosthetic Activity Foundation (OPAF), raising funds and supporting clinics worldwide. She is a 2016-17 inductee to the National Association of Professional Women's VIP Woman of the Year Circle in recognition of her professional excellence, leadership and commitment, as well as encouragement to the achievement of professional women.
Contact us to book a call with Davie.